Horror fans, I have a request for you. I know it will be difficult, but all I'm asking is that you try. It's time that we chill the hell out – well, just slightly.
Horror fans are indisputably the most dedicated fans of any film genre. Just check out the message boards for the "Genre Zone" on IMDB.com. At the time of this posting, comedy has 769 posts dedicated to discussing that genre. Drama has 325 posts. People really seem to enjoy film noir, which has over 1,500 posts.
Horror? Horror has 34,697 posts. We are nerds, but dammit we are committed nerds.  There's no denying this. But we need to relax just a little bit. Our expectations as horror fans are through the skyscraper roof. It's unlikely that any movie will ever scare you as much as that one legendary film from your childhood. We're constantly looking for that high. That thrill. That same spine-tingling sensation. It's just not going to happen because we're too desensitized and we're really good at predicting the killer's next move or the victims' next dumb choice. We've watched a ton of movies, okay?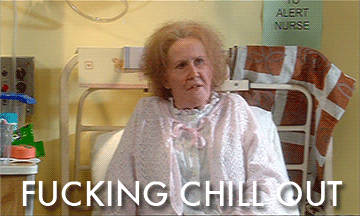 I am not saying that we need to give a participation trophy to every fuckwit that wants to make a horror movie. We need to demand quality and innovation because otherwise this genre will not survive. We need to stay hungry for fresh talent and interesting points of view (or is it point of views?) We need to celebrate good storytelling and gnarly make-up effects.
But please – just give some of the stuff you considered "complete trash" a second look and give credit where credit's due. My main gripe right now is with the fan response to the new Blair Witch. Yes, there are a lot of flaws. They should've used the drone more effectively, or at all. Why the fuck did that chick climb a tree? And what was that shit that got into her leg and what did it have to do with the story? And seriously, time warps?!
That being said, there's some interesting film work happening here. Adam Wingard, our valiant mumblegore prince, manages to include some pretty intense and frightening stuff. There's some great body horror visuals when Talia dies and when we finally get a glimpse of The Witch. If you're the least bit claustrophobic, the tunnel scene works quite effectively. There's also a lot of atmosphere going on here, folks. Lots of rain. Lots of darkness. Lots of screaming. When you take a deep breath and consider these efforts objectively, they are pretty good. Certainly not "Awful, abhorrent and wholly embarrassing for everyone involved" as one IMDB user stated.
As this post in the A.V. Club explains, Wingard wanted this to be a straightforward, jump-scare type horror movie. "It's a movie that's meant to be watched with a crowd," he says. And I agree. In fact – and I know I may be in the minority here – watching horror films in a packed theater is one of my favorite things. This movie is exactly for that scenario.
There's a lot to refute here, I know, because my writing style is lazy at best. But please, maybe ease up on the mainstream horror movies and try to focus on what's working and where we can improve, not just complaining about what you think is utter crap.
Or maybe I should shut up and just let horror fans be horror fans. We are the dedicated-yet-salty curmudgeons of movie fans, after all. And proudly so.